HealthCheck May 30, 2012
Printer-friendly version

Academy Activities
The Academy's Medicare Steering Committee on May 21 released an update of its annual issue brief, Medicare's Financial Condition: Beyond Actuarial Balance. The brief provides an overview of the findings included in the 2012 Medicare Trustees Report and offers an actuarial perspective on options to address the program's financial condition and long-term sustainability.
In a May 16 letter to the Center for Consumer Information and Insurance Oversight (CCIIO), the Actuarial Value Subgroup commented on the Actuarial Value and Cost-Sharing Reduction Bulletin released in February. The letter specifically addresses the proposed actuarial value calculator and supplements comments submitted to the CCIIO on April 2 on the cost-sharing inputs for the calculator.
The Academy's Medical Loss Ratio Work Group commented on the revised annual reporting form in a May 2 letter to the Centers for Medicare & Medicaid Services. The work group outlined several concerns with the definition of premiums, the instructions regarding contract reserves, and the definition of pre-tax underwriting gain/loss.
Legislative and Regulatory Updates

The Department of Health and Human Services (HHS) on May 16 issued guidance on federally facilitated exchanges. HHS also released the Draft Blueprint for Approval of Affordable State-based and State Partnership Insurance Exchanges and a subsequent frequently asked questions about the document. The blueprint outlines the steps states must take to receive HHS approval. HHS also announced the dates for several regional implementation forums it will conduct this summer to answer questions about the building of exchanges.

HHS on May 1 issued a request for information about the use of stop-loss insurance by group health plans and their plan sponsors, with a focus on the prevalence and consequences of stop-loss insurance at low attachment points. The comment deadline is July 2.

The Internal Revenue Service issued three notices on the Affordable Care Act on April 26. Notice 2012-31 addresses whether health coverage under an eligible employer-sponsored plan provides minimum value. Notice 2012-32 details reporting requirements for health insurance issuers, government agencies, employers that sponsor self-insured plans, and others who provide minimum essential coverage to an individual. Notice 2012-33 addresses the reporting of certain information on employer-provided health care coverage provided on or after Jan. 1, 2014, and the related statements that must be sent to employees.
Upcoming Health Care Reform Events
The 3 Rs of Financial Management: Reinsurance, Risk Adjustment, and Risk Corridors
Webinar: May 31, 1–2:30 p.m. EDT (fee charged)
Sponsor: America's Health Insurance Plans (AHIP)
For a complete listing of upcoming and recent health care reform events click here.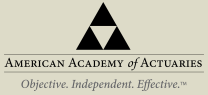 PLEASE DO NOT REPLY TO THIS EMAIL. THIS EMAIL ADDRESS IS NOT MONITORED.
If you would like more information or to contact the Academy, please visit us at www.actuary.org/content/about-us

Sign up to follow the Academy on Twitter.
Rather not receive Academy emails? Unsubscribe by emailing membership@actuary.org.
---
1850 M Street NW • Suite 300 • Washington, DC 20036 • 202.223.8196 • www.actuary.org
Copyright 2012 American Academy of Actuaries. All rights reserved.