HealthCheck, May 2018
Printer-friendly version
Academy activities, legislative/regulatory updates, and more.

Academy Activities
Members of the Individual and Small Group Markets Committee and the Employee Benefits Committee held a teleconference on April 24 with the Congressional Budget Office (CBO) to discuss group health insurance pricing.
Legislative/Judicial/Regulatory Updates

The CBO released The Budget and Economic Outlook: 2018 to 2028 in April. In addition to providing budgetary and economic projections for the next decade, the report estimates that federal spending on major health care programs—Medicare, Medicaid, the Children's Health Insurance Program (CHIP), and subsidies offered through the health insurance marketplaces established under the Affordable Care Act (ACA)—are projected to increase from 5.3 percent of GDP in 2018 to 6.6 percent in 2028, largely due to growth in Medicare spending.

Centers for Medicare & Medicaid Services (CMS) Administrator Seema Verma announced through a May 7 letter that the agency is rejecting a Section 1115 Medicaid waiver application by Kansas that would have imposed a three-year lifetime limit on Medicaid benefits.

CMS provided approval of a Section 1115 Medicaid waiver application from New Hampshire on May 7, allowing the state to implement work requirements for working-age Medicaid beneficiaries, as well as copayments for beneficiaries with incomes above the federal poverty level.

CMS released a proposed rule on April 24 that would require hospitals to maintain, and update annually, an online list of standard charges.

CMS issued the final rule for the Department of Health and Human Services' (HHS) Notice of Benefit and Payment Parameters for 2019. Read the Academy alert.

The federal government filed a notice of appeal on May 3 seeking to reverse a ruling by the U.S. District Court for the Northern District of Texas that determined that states are not required to reimburse Medicaid managed care plans for the cost of the Health Insurance Providers Fee, a tax implemented under the ACA.

On April 30, Maine Equal Justice Partners, et al., filed a lawsuit against the state's commissioner of Health and Human Services for failing to implement an expansion of Medicaid that was approved by voters in a November 2017 ballot initiative. Gov. Paul LePage refused to approve any expansion of Medicaid that failed to meet criteria outlined in a December 2017 letter.

The New Jersey Legislature passed a bill on April 12 that would establish a penalty on individuals who do not maintain health insurance coverage (also known as an individual mandate). The bill is currently under consideration by Gov. Phil Murphy. If signed into law, New Jersey would become the first state to establish an individual mandate since the U.S. Congress reduced the penalty for noncompliance with the federal individual mandate to zero in December 2017. (The reduction of the federal individual mandate penalty will take effect in January 2019.) Additionally, a bill that would establish a reinsurance program in New Jersey is under consideration by Murphy.
Extra-Early Registration Deadline Next Week for IFRS 17 Seminar
Register today for the lowest rates to attend the Academy's "Seminar on Implementing IFRS 17 for Long-Duration Contracts," to be held Aug. 29–30 in Washington, D.C. This new seminar will explore the accounting standard's requirements and is designed to help prepare life and health financial reporting actuaries to achieve compliance with the accounting for insurance contracts. Prices will increase soon—register by May 18 and save.
In the News / Media Activities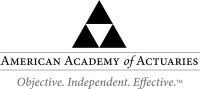 Follow the Academy on Facebook, LinkedIn, and Twitter.
---
1850 M Street NW • Suite 300 • Washington, DC 20036 • 202.223.8196 • www.actuary.org
Copyright 2018 American Academy of Actuaries. All rights reserved.