HealthCheck, March 2016
Printer-friendly version

Legislative/Regulatory Updates

The U.S. Department of Health and Human Services has released the final Notice of Benefit and Payment Parameters for 2017. The final rule addresses payment parameters related to the risk-sharing mechanisms under the Affordable Care Act (ACA), federally facilitated exchange user fees, and cost-sharing parameters, among other ACA provisions.

In addition to the final benefit and payment parameters for 2017, the Centers for Medicare & Medicaid Services released several key documents and statements on Feb. 29, including:
In the News/Media Activities
An article in TheStreet used the Academy's analysis of cost drivers of 2016 health insurance premiums to help frame a discussion of how consumers can reduce their health care costs. The story was widely published in other media outlets, including MSN Money and the Philadelphia Sun-Times.
Life & Health Advisor reported on the Academy's newly released election guides, which provide substantive information to the voting public about Medicare and other public policy issues during this presidential primary campaign season.
Save the Date: Life and Health Qualifications Seminar
The 2016 Life and Health Qualifications Seminar will be held Nov. 13-17 in Arlington, Va., outside of Washington, D.C. Stay tuned for registration information.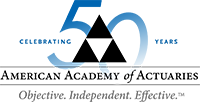 PLEASE DO NOT REPLY TO THIS EMAIL. THIS EMAIL ADDRESS IS NOT MONITORED.
If you would like more information or to contact the Academy, please visit us at www.actuary.org/content/about-us
Sign up to follow the Academy on Twitter.
Rather not receive Academy emails? Unsubscribe by emailing membership@actuary.org.
---
1850 M Street NW • Suite 300 • Washington, DC 20036 • 202.223.8196 • www.actuary.org
Copyright 2016 American Academy of Actuaries. All rights reserved.