HealthCheck, March 2013
Printer-friendly version
Having trouble viewing this email? View it in your browser.

Academy Activities
On March 13 and 14, the Academy will be hosting a free two-part webinar series on recently released rules related to Affordable Care Act (ACA) implementation. The webinars will feature representatives from the Center for Consumer Information and Insurance Oversight (CCIIO), who will answer members' questions regarding actuarial value (AV) determinations, cost-sharing reductions, essential health benefits, and the final market reform rules.
On March 20, the Academy will be hosting a webinar related to the final and interim final rules recently released on the implementation of the 3Rs—risk adjustment, reinsurance, and risk corridors. Panelists from CCIIO will provide a brief overview of the new rules, but the presentation will focus on the new methodology for reconciling advanced cost-sharing reduction payments.
Cori Uccello, the Academy's senior health fellow, submitted written testimony to the House Ways and Means Subcommittee on Health in response to its Feb. 26 hearing on Medicare's traditional fee-for-service benefit design.
On March 7, the Academy's Rate Review Practice Note Work Group sent comments to CCIIO, recommending several modifications to the unified rate review template and instructions associated with the final rules implementing the rate review and disclosure provisions in the ACA.
Jeff Stensland, a principal policy analyst at the Medicare Payment Advisory Commission (MedPAC), provided health actuaries with information on the relationship between Medicare and private insurance provider payment rates during a webinar hosted by the Academy on Feb. 21. A recording of the webinar is available online.
New videos from the Centers for Medicare & Medicaid Services (CMS) on several key regulations that implement certain provisions in the ACA are now available on the Academy's members-only page. Log in and click on ACA Regulation Review Videos.
Following Richard Foster's retirement as CMS chief actuary, the Academy sent a letter to President Obama and top administration officials urging them to require Academy membership as a qualification for any candidate to the chief actuary position at CMS.
The Large Group Medical Business Practice Note Work Group released an update of the 1995 practice note on large group medical business. Called "Large Group Medical Insurance Reserves, Liabilities and Actuarial Assets," the practice note provides information for valuation actuaries on their responsibilities when determining reserve levels and other actuarial assets and liabilities for large group medical insurance coverage. The practice note also addresses issues relating to the National Association of Insurance Commissioners' (NAIC's) Accounting Practices and Procedures Manual, Actuarial Opinion and Memorandum Regulation, Health Insurance Reserves Model Regulation, and Health Reserves Guidance Manual.
Legislative and Regulatory Updates

The Department of Health and Human Services (HHS) issued a number of key rules implementing provisions of the ACA in the past month:
Final rule implementing the provisions related to the 2014 health insurance market reforms (i.e., rating factors and guaranteed issue) and modifying the final rule on rate review and disclosure on Feb. 27.
Final rule establishing standards on AV, essential health benefits (EHB), and accreditation under the ACA. The rule addresses a number of issues related to the selection of benchmark plans, the determination of AV, the minimum value calculator and continuance tables, and the final timeline for qualified health plans to be accredited in federally facilitated exchanges.
Final rule, "Notice of Benefit and Payment Parameters for 2014," and interim final rule, "Amendments to the HHS Notice of Benefit and Payment Parameters for 2014," which both address components of the ACA risk-sharing mechanisms.
Proposed rule implementing the Small Business Health Options Program. Comments are due on this proposed rule within 30 days of publication in the Federal Register.

The Internal Revenue Service released a proposed rule addressing health insurance provider fees. The proposed rule provides guidance on the annual fee imposed on covered entities engaged in the business of providing health insurance. Comments are due within 90 days of official publication in the Federal Register, which is currently scheduled for March 4.

On a joint call of the Executive Committee/Plenary on March 1, the NAIC approved two model laws relating to health insurance coverage. The "Individual Market Health Insurance Coverage Model Act" and the "Small Group Health Insurance Coverage Model Act" set out the requirements for guaranteed availability, guaranteed renewability, and premium rating in the individual and small group markets. The NAIC also adopted 2013 committee charges on the call.
In The News
A Feb. 7 letter from three North Carolina representatives to its state House of Representatives and a Feb. 13 IndyWeek.com Op-Ed cited the Academy's Medicaid decision brief, "Implications of Medicaid Expansion Decisions on Private Coverage."

Upcoming Health Care Reform Events
2013 National Policy Forum
Conference: March 13–14, Washington, DC (fee charged)
Sponsor: America's Health Insurance Plans (AHIP)
For a complete listing of upcoming and recent health care reform events click here.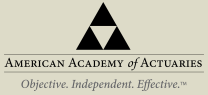 PLEASE DO NOT REPLY TO THIS EMAIL. THIS EMAIL ADDRESS IS NOT MONITORED.
If you would like more information or to contact the Academy, please visit us at www.actuary.org/content/about-us
Sign up to follow the Academy on Twitter.
Rather not receive Academy emails? Unsubscribe by emailing membership@actuary.org.
---
1850 M Street NW • Suite 300 • Washington, DC 20036 • 202.223.8196 • www.actuary.org
Copyright 2013 American Academy of Actuaries. All rights reserved.