HealthCheck June 27, 2012
Printer-friendly version

The Supreme Court ruling on the constitutionality of the Affordable Care Act is expected tomorrow. Look for a special Academy Alert for details of the decision. In addition, the Academy will host a webinar on July 11 at 11 a.m. EDT to discuss the Supreme Court decision and what it means for the profession moving forward. Look for more details in your inbox soon.
Academy Activities
The Health Practice Council and the Society of Actuaries (SOA) jointly released a research brief on June 4 that highlighted key findings and policy implications of an SOA study of the risk mitigation programs created under the Affordable Care Act (ACA). The research, conducted by Milliman and sponsored by the SOA, looked at the effects of risk adjustment, reinsurance, and risk corridors.
In a June 11 letter to the IRS on Notice 2012-31, Minimum Value of an Employer-Sponsored Health Plan, the Actuarial Value Subgroup addressed how to account for noncore benefits and nonstandard plan features as well as other considerations related to the treatment of health savings account contributions.
The Medicaid Work Group considered issues relating to actuarial soundness as they pertain to changes in the Medicaid program in comments submitted on June 11 to the Centers for Medicare & Medicaid Services on a proposed rule regarding payments for Medicaid primary care services. Under the ACA, Medicaid fee-for-service and managed care programs must reimburse primary care providers for these services at rates equal to Medicare. The work group suggested various approaches for identifying the increment to capitation payments attributable to the increased provider rates.
A new campaign 2012 voters' guide—Making Health Care Reform Work: Why Broad Participation is Necessary—was released on June 6. The Health Practice Council's Communications Task Force developed the guide to help voters understand why broad participation is necessary in the health insurance system to avoid higher premiums, especially if insurers are prohibited from denying coverage or charging higher premiums to individuals with higher expected costs due to their health status.
In The News/Media Activities

Academy Senior Health Fellow Cori Uccello was quoted in a June 21 PoliticoPro article, "Skimpy Plans May Satisfy Individual Mandate," that discussed how health insurance plans with limited coverage could satisfy the individual mandate requirement in the Affordable Care Act. Uccello described the purpose of the Academy's voters' guides on Social Security and Medicare in an InvestmentNews article, "Intelligent Debate," that favorably reviewed the recently issued publications. Uccello also was quoted in a lengthy Congressional Quarterly Weekly article, "The Chaos of a Narrow Ruling," that looked at some possible scenarios resulting from the upcoming Supreme Court decision.

LifeHealthPro wrote about the Academy's issue brief on the Medicare trustees' report in the May 25 article, "Actuaries: Medicare Trust Fund Looks Awful." The article cited the Academy's recommendation that Congress take action sooner rather than later.

John Archambault's June 6 Op-Ed in The Boston Globe, "Without Patient-Centered Health Plans, Mass. Is Using the Same Tired Script," referenced the 2009 Academy monograph, Emerging Data on Consumer-Driven Health Plans.

The Academy's work on long-term care insurance was covered in a June 12 LifeHealthPro article, "AAA Panel Seeks Comments on LTCI Rate Draft."
Upcoming Health Care Reform Events

Managing Long Term Care in Dual Eligible Populations
Webinar: July 17, 1–2:30 p.m. EDT (No fee charged)
Sponsor: America's Health Insurance Plans (AHIP)
For a complete listing of upcoming and recent health care reform events click here.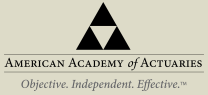 PLEASE DO NOT REPLY TO THIS EMAIL. THIS EMAIL ADDRESS IS NOT MONITORED.
If you would like more information or to contact the Academy, please visit us at www.actuary.org/content/about-us

Sign up to follow the Academy on Twitter.
Rather not receive Academy emails? Unsubscribe by emailing membership@actuary.org.
---
1850 M Street NW • Suite 300 • Washington, DC 20036 • 202.223.8196 • www.actuary.org
Copyright 2012 American Academy of Actuaries. All rights reserved.