HealthCheck, June 2017
Printer-friendly version
Academy activities, legislative/regulatory updates, and more.

Academy Activities
Academy Senior Health Fellow Cori Uccello participated in a June 12 teleconference hosted by the Commonwealth Fund on the individual health insurance market.
Also on June 12, Uccello presented a nonpartisan, objective actuarial perspective on the individual health insurance market at a meeting of eight U.S. senators and health care experts on Capitol Hill in Washington. Details of the analysis of these issues—including shoring up the current market and possible reforms to the Affordable Care Act (ACA)—are available in the public policy section of the Academy's website.
The Academy hosted three sessions at the Society of Actuaries' Health Meeting June 12–14 in Hollywood, Fla.: The New Three R's, Repeal, Replace, Repair; Essential Criteria to Consider in LTC Reform; and Telehealth—Theory, Practice and Potential.
The Medicare Subcommittee sent comments to the U.S. House Ways and Means Committee's Health Subcommittee on preserving and strengthening the Medicare program.
The Health Practice Council (HPC) sent comments to the U.S. Senate Finance Committee on improving the individual health insurance market and changing the approach to Medicaid funding.
Next Week—Extra-Early Discount Deadline for Annual Meeting
and Public Policy Forum
Extra-early registration ends June 20 for the Academy's 2017 Annual Meeting and Public Policy Forum, to be held Nov. 14–15 in Washington, D.C. The meeting and forum will offer insights into what the many changes occurring in Washington mean for your work as an actuary. Two-time Pulitzer Prize-winning Washington Post reporter Bob Woodward will deliver a keynote address on Nov. 14. Breakout sessions will look at the latest in health care regulation and policymaking, along with other top public policy and professionalism issues. CE credit will be available. Get the strategic information you need and register today for the lowest rates
Legislative/Judicial/Regulatory Updates

The U.S. Department of Justice and the U.S. House of Representatives filed a joint motion in a federal appeals court May 22 to delay for 90 days any legal action regarding the appropriations of subsidy payments for health insurers. The lawsuit, House v. Price, filed by the House during the Obama administration, concerns the legality of funding for the ACA's cost-sharing program.

Attorneys general from 15 states and the District of Columbia citied an Academy letter to congressional leaders in filing a motion to intervene May 18 to defend the cost-sharing subsidies at stake in House v. Price.

The Congressional Budget Office (CBO) released a score May 24 of the American Health Care Act of 2017 (AHCA), which was passed by the U.S. House of Representatives on May 4. The bill—first scored by the CBO on March 13—was later changed by the House in part to allow states the option to create their own set of essential health benefits in the individual and small group markets.

The U.S. House Ways and Means Committee passed three bills on May 24, largely on a partisan basis, intended to supplement the AHCA, according to the Trump administration and House Republicans. The bills are:
H.R. 2372, the "VETERAN" Act, introduced May 4 by Rep. Sam Johnson (R-Texas), allows veterans to maintain access to the premium subsidies under the ACA in the event that the AHCA becomes law.

H.R. 2579, introduced May 19 by Rep. Pat Tiberi (R-Ohio), allows tax credits under the AHCA to be used to obtain unsubsidized Consolidated Budget Reconciliation Act (COBRA) plans.

H.R. 2581, the "Verify First Act," introduced May 22 by Rep. Lou Barletta (R-Pa.), requires individuals to provide proof of their legal status and/or income eligibility in order to receive tax credits under the AHCA.

The Centers for Medicare & Medicaid Services (CMS) published several items in the past month, including:
A May 17 announcement of new streamlined direct enrollment process for consumers seeking health exchange coverage.

A June 8 request for information seeking recommendations and input from the public on how to create a more flexible, streamlined approach to the regulatory structure of the individual and small group markets.

Iowa's insurance commissioner on June 12 submitted a request to CMS that aims to prevent 72,000 individual health insurance market customers from not having any insurance options next year. The proposal is a "request for emergency regulatory relief to provide stability to the health insurance market."

The California Senate passed single-payer legislation, and a member of the New Jersey General Assembly has drafted legislation to establish a state-run single-payer health care system. Many of the details with regard to funding in both states have not been fully formed.

The Nevada legislature passed a bill June 2 that would allow anyone to buy into Medicaid. Gov. Brian Sandoval (R) has not yet indicated if he will sign the bill into law or veto the measure—if he takes no action, the measure will automatically become law on June 16.
Webinar Covers Issues Surrounding Global Pandemic Risk
The Academy hosted a June 6 webinar, "A Global Look at Pandemic Risk," in which presenters gave an overview of the escalating factors for epidemic and pandemic risks and associated costs with respect to infrastructure, technology, and lifestyle modifications. Eddy Rubin, chief science officer for Metabiota, gave an overview of the history of epidemics; Petra Wildemann, Metabiota's head of business development and risk products for Europe and the United Kingdom, presented on large-scale risks in reinsurance; and Paul Nunn, head of catastrophe risk modeling for SCOR Global P&C, covered catastrophe risk modeling. The webinar was moderated by Susan Mateja, chairperson of the Academy's Health Practice International Committee. Slides and audio are available to members free of charge.
Call for Volunteers—Academy Seeks Pooled Health Plan Data
Section 3.7.7(b) of the revised ASOP No. 6, Measuring Retiree Group Benefits Obligations and Determining Retiree Group Benefits Program Periodic Costs or Actuarially Determined Contributions, calls for consideration of age-specific costs within a pooled health plan. One large pooled health plan, CalPERS, has made its age-specific cost data publicly available—a link to this data can be found on the Academy website. The Academy is interested in working with other pooled fund administrators to make similar data publicly available to actuaries.
If you are a health actuary who has worked with or has contacts at large pooled health funds across the country and can assist in the Academy's goal to make contact with large pooled fund administrators, we want to hear from you. If you can help or need additional information, please contact Heather Jerbi, assistant director of public policy, at jerbi@actuary.org.
Get Qualified & Earn CE at the 2017 Life and
Health Qualifications Seminar
If you are an actuary who wishes to be qualified to issue actuarial opinions for either the NAIC Life and A&H Annual Statement or the NAIC Health Annual Statement, make plans to attend this year's Life and Health Qualifications Seminar, to be held Nov. 12–16 in Arlington, Va. This essential seminar provides three days of training and instruction, along with the opportunity for attendees to take the Specific Qualification Standard exam on the final day. Attendees also will have the opportunity to earn continuing education (CE) credit. Register today for the lowest rates.
In the News / Media Activities
An Associated Press story discussing expected health insurance premium hikes in the individual insurance market quoted Senior Health Fellow Cori Uccello on how uncertainty regarding the 2018 regulatory environment is affecting premiums. More than 600 media outlets—including the Chicago Tribune, CNBC, CBS News, Fox Business, San Francisco Chronicle, and The Washington Times—published the story.
An NBC News story quoting Uccello on continued uncertainty among insurers regarding payment of cost-sharing reductions was reprinted by multiple media outlets including WRCBtv.com, Insurance Co, and Insurangle. The Atlantic cited Uccello's comment to NBC News as well. A HealthPayer Intelligence article on Section 1332 state waivers for high-risk pools and reinsurance cited separate comments made by Uccello on regulatory uncertainty.
Healthcare Dive reported Uccello's comments on the considerations insurers may be weighing in decisions on whether or not to continue participation in Affordable Care Act (ACA) exchanges. National Journal (login required) and Bloomberg BNA quoted Uccello on the continuous-coverage provisions of the AHCA, and Policy and Medicine covered her remarks on a May 5 panel, a day after the U.S. House of Representatives passed the AHCA.
A PolitiFact article on the challenges facing Iowa's federal health insurance marketplace for 2018, which was reprinted by the Tampa Bay Times, quoted Risk Sharing Subcommittee Chairperson Barbara Klever on factors that affect individual market stability. Kaiser Health News, Healthcare Dive, Advisor, and Benefits Link cited the subcommittee's issue brief examining potential implications of insurance market changes on the risk adjustment program implemented under the ACA. A subscriber-only California Broker article cited Uccello on how changes to health insurance markets would affect risk adjustment.
The HPC's concerns regarding uncertainty surrounding cost-sharing reduction (CSR) payments, expressed in Academy letters to the U.S. House and Senate, were quoted in a letter about CSRs from 196 House Democrats to President Trump. The CSR letter also was cited in Best Week and Wolters Kluwer Law & Business articles.
The Individual and Small Group Markets Committee and the Medicaid Subcommittee's March 22 comment letter to U.S. House of Representatives was cited in a Bloomberg BNA interview with Brian Blase, special assistant to the president in the National Economic Council.
The Center for American Progress cited a Medicaid Funding Work Group issue brief in its analysis of the effects of state caps on Medicaid funding.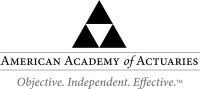 PLEASE DO NOT REPLY TO THIS EMAIL. THIS EMAIL ADDRESS IS NOT MONITORED.
If you would like more information or to contact the Academy, please visit us at www.actuary.org/content/about-us

Follow the Academy on Facebook, LinkedIn, and Twitter.
Rather not receive Academy emails? Unsubscribe by emailing membership@actuary.org.
---
1850 M Street NW • Suite 300 • Washington, DC 20036 • 202.223.8196 • www.actuary.org
Copyright 2016 American Academy of Actuaries. All rights reserved.