HealthCheck, June 2016
Printer-friendly version
New LTC Insurance Issue Brief; District Court Releases ACA Opinion

Academy Activities
Subcommittee Publishes Issue Brief on LTC Insurance
The Long-Term Care Reform Subcommittee published an issue brief June 2 that provides an overview of premium rate increases on private long-term care insurance (LTCI) policies. The issue brief notes that private LTCI is complex, and that a policyholder is essentially paying today for a varied range of care he or she may or may not need for years, if not decades, into the future. Insurers are gradually learning through their claims experience what the actual levels of benefits are and will be, and a means for taking corrective action to accommodate the changing future is important. Read the Academy's news release and see "In The News" below for media coverage.
Legislative/Regulatory Updates

The Department of Health and Human Services (HHS) will host a forum June 9 (tomorrow) on private health insurance issuer insights and innovation in year three of the new Affordable Care Act (ACA) marketplace.

On June 6, the Centers for Medicare and Medicaid Services issued a final rule to update how accountable care organization (ACO) performance is measured. The rule is scheduled to be published in the June 10 Federal Register.

HHS released a final rule May 13 implementing ACA nondiscrimination provisions.

On May 12, the U.S. District Court ruled in an opinion in the U.S. House of Representatives v. Burwell case that the cost-sharing subsidy program under the ACA was not properly funded through the congressional appropriations process. The program will be allowed to continue while the Obama administration considers appealing, which it is expected to. Read the Academy alert.
In the News/Media Activities
Media outlets continued to cover the Academy's issue brief on 2017 health premium drivers, which was released in early May. WLRN Public Radio, the NPR affiliate in Miami/South Florida, ran a story giving context on proposed premiums in that state, featuring an interview with Academy Senior Health Fellow Cori Uccello. An Oklahoma insurance department statement and a Kentucky Press News Service bulletin on proposed premiums in those states also cited the issue brief for context, as reported in Insurance Journal, Insider Louisville, and several Kentucky-based outlets. The issue brief also was cited in a Center for Health Journalism commentary on a proposed ACA alternative to establish high-risk pools to insure the sick.
The Academy's LTCI issue brief was cited in a LifeHealthPro story on properly structuring private LTCI.
Upcoming Events
Lowest Rates Available for November's LHQ Seminar
Register now for the lowest rates to attend this year's Life and Health Qualifications Seminar, to be held Nov. 13-17 in Arlington, Va. (Washington, D.C., metro region). Attendees can expect to hear the latest on health insurance valuation; premium, loss, expense, and contingency reserves; and risk-based capital. This seminar is the most succinct and effective way to acquire the required basic education and continuing education to sign NAIC life and health annual statement actuarial opinions. It also serves as a basic education refresher or as a source of required continuing education for more experienced actuaries. Click here to register.
Registration Now Open for Annual Meeting and Public Policy Forum
Held just days before Election Day, the 2016 Annual Meeting and Public Policy Forum will give you an in-depth look at the top public policy and professionalism issues facing the U.S. actuarial profession. Visit the Academy's Annual Meeting page to learn more about the Nov. 3-4 event to be held in Washington, D.C., including how to register and where to stay.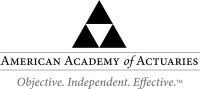 PLEASE DO NOT REPLY TO THIS EMAIL. THIS EMAIL ADDRESS IS NOT MONITORED.
If you would like more information or to contact the Academy, please visit us at www.actuary.org/content/about-us

Sign up to follow the Academy on Twitter.
Rather not receive Academy emails? Unsubscribe by emailing membership@actuary.org.
---
1850 M Street NW • Suite 300 • Washington, DC 20036 • 202.223.8196 • www.actuary.org
Copyright 2016 American Academy of Actuaries. All rights reserved.