HealthCheck, July 2017
Printer-friendly version
Academy activities, legislative/regulatory updates, and more.

Academy Activities
The Individual and Small Group Markets Committee published an issue brief July 11 providing an overview of the general factors underlying premium rate setting and highlighting the major components driving Affordable Care Act (ACA) premium changes in 2018, which include:
Underlying growth in health care costs;

Legislative/regulatory uncertainty;

Risk-sharing programs for high-cost enrollees;

Changes in the risk pool composition and issuer assumptions; and

The expected resumption of the health insurance provider fee.
"During the early transition years to the ACA marketplaces, the uncertainties that drove premium changes in the individual market were inherent to insuring unknown populations under untested market rules," said Academy Senior Health Fellow Cori Uccello. "While more has become known about the ACA market, the continued rise in health care costs and increased uncertainty surrounding the market rules are some of the major factors driving premium changes for 2018."
---
The Individual and Small Group Markets Committee and the Medicaid Subcommittee sent comments June 30 to U.S. Senate leadership on the Better Care Reconciliation Act of 2017 (BCRA), which is intended to repeal and replace provisions of the ACA. Separately, Uccello participated in a number of BCRA meetings with Senate and federal agency staff. The New York Times quoted Uccello and the Academy work groups' letter in a July 5 story on an amendment proposed by Sen. Ted Cruz (R-Texas) that would allow insurers to offer less-comprehensive coverage than mandated under the ACA, as long as they offer access to at least one ACA-compliant plan. (See "In the News" below for additional media coverage.)
---
The Health Financial Reporting and Solvency Committee submitted a proposed amendment related to high-cost risk pooling in the ACA risk adjustment program to the NAIC's Statutory Accounting Principles (E) Working Group.
Breakout Sessions at Annual Meeting to Explore
Latest Health Care Developments
This year's Annual Meeting and Public Policy Forum, to be held Nov. 14–15 in Washington, will shed a light on today's top issues, including up-to-date information on the status of health care legislation and regulations and potential implications for our work. Health breakout sessions at this year's Annual Meeting include:
The Uncertainties in Health Care, Part 1 and Part 2, will dive into the legislative and regulatory efforts to stabilize the individual market or repeal/replace the ACA, as well as a look at the implications of changes to the health care system (and possibly tax reform) for Medicaid, Medicare, and employee benefits.

Bending the Cost Curve will focus on the drivers of health care costs, with panelists discussing outcomes from recent demonstration/pilot programs and various studies being conducted to evaluate delivery and payment system reforms and their impact on cost and quality.
The Academy believes in good faith that you may earn 1.8 continuing education credits for each breakout session. Stay on top of health care developments—register today.
Legislative/Judicial/Regulatory Updates

The U.S. Senate Budget Committee released a discussion draft on June 22 of legislation that would, in part, repeal and replace the ACA. Any floor vote was postponed until a potential rewrite can be released.

The Congressional Budget Office (CBO) released its score of Senate Republicans' draft version of BCRA. CBO estimated the Senate version could result in the loss of health insurance for 22 million Americans by 2026, while reducing the federal deficit by $321 billion over the same period.

The Centers for Medicare & Medicaid Services' (CMS) Center for Consumer Information and Insurance Oversight, which is charged with implementing programs of the ACA, released a Summary Report on Transitional Reinsurance Payments and Permanent Risk Adjustment Transfers for the 2016 Benefit Year, which indicated the transitional reinsurance and permanent risk-adjustment programs functioned smoothly for the 2016 benefit year.

CMS approved its first 1332 waiver under the Trump administration for Alaska to set up a reinsurance program that would help reduce premiums for consumers on the individual health insurance market.

Kentucky Gov. Matt Bevin (R) proposed modifying certain parts of that state's proposed Medicaid 1115 waiver from August 2016 to add more restrictions to Medicaid expansion. Bevin has suggested he would consider ending Medicaid expansion if the additional restrictions are not approved.
Registration Open for Life and Health Qualifications Seminar
Health claim reserves, premium deficiency reserves, and health reporting and special topics are just a few of the sessions on the agenda for the Academy's 2017 Life and Health Qualifications Seminar, to be held Nov. 12–16 in Arlington, Va. This seminar, offered each year by the Academy, is considered to be the most efficient way to gain the necessary qualifications required to sign the NAIC life and health annual statement actuarial opinions. Attendees will have the opportunity to take the Specific Qualifications Standard exam on the final day. Visit the event page to see the agenda at a glance and to register for this essential seminar.
In the News / Media Activities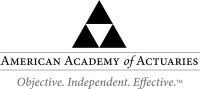 PLEASE DO NOT REPLY TO THIS EMAIL. THIS EMAIL ADDRESS IS NOT MONITORED.
If you would like more information or to contact the Academy, please visit us at www.actuary.org/content/about-us

Follow the Academy on Facebook, LinkedIn, and Twitter.
Rather not receive Academy emails? Unsubscribe by emailing membership@actuary.org.
---
1850 M Street NW • Suite 300 • Washington, DC 20036 • 202.223.8196 • www.actuary.org
Copyright 2017 American Academy of Actuaries. All rights reserved.