HealthCheck, July 2016
Printer-friendly version
Issue brief released after Medicare Trustees Report; webinar looks at PBR modeling for LTC insurance.

Academy Activities
Subcommittee Publishes Issue Brief on Medicare's Financial Condition
The Medicare Subcommittee published an issue brief in late June, Medicare's Financial Condition: Beyond Actuarial Balance, highlighting significant concerns about that program's long-term financial health. The 2016 Medicare Trustees Report was released on June 22 and, following that, the Academy issued a cross-practice alert, updated the Essential Elements report on Medicare, and revised its 2016 Election Guides.
Webinar Explores PBR Modeling for Long-Term Care Insurance
More than 200 people attended the June 30 webinar on the Report on Principle-Based Reserve Modeling for Long-Term Care Insurance, which was issued in January. Hosted by members of the LTC PBR Work Group, the webinar provided a live demonstration of the model in Excel as well as discussion of the report, which demonstrates the feasibility of one modeling approach. Slides and audio are available to Academy members on the webinar page.
Legislative/Regulatory Updates

The House of Representatives passed H.R. 5447, the Small Business Health Care Relief Act, on June 21. It would allow small employers to offer a qualified small employer health reimbursement arrangement. A related Senate bill, S. 3060, was introduced a week earlier and referred to the Senate Finance Committee.

Congressional Republicans released "A Better Way: Our Vision for a Confident America," a plan designed to replace the Affordable Care Act (ACA), on June 22.

On June 30, the Department of Health and Human Services' (HHS) Center for Consumer Information and Insurance Oversight (CCIIO) released a summary report regarding risk adjustment transfers and reinsurance payments for the 2015 benefit year.

The U.S. Court of Appeals for the District of Columbia Circuit ruled in Central United Life Insurance v. Burwell on July 1 that HHS overstepped its authority in a rule not allowing consumers to buy fixed indemnity insurance that does not meet the standards of the ACA.

The House of Representatives passed a mental health bill July 6 that would require insurers to cover treatment for certain disorders. The bill now heads to the U.S. Senate.

On July 5, Missouri Gov. Jay Nixon signed a bill into law requiring health insurers to file proposed rates with the Missouri Department of Insurance, effective Aug. 28. The law allows the public to comment on rates deemed excessive or discriminatory.
StateScan Now Includes Regulatory Activity
To help members keep up to date with state news that affects their daily work, the Academy's StateScan portal now offers highlights of regulatory activity—in health and other practice areas—in addition to the previously included legislative actions. The summer issue of StateScan Quarterly, the Academy's regular recap of major regulatory and legislative activities, include items of interest on Medicaid expansion and other issues.
In the News/Media Activities
HealthPayerIntelligence interviewed Michael Thompson, chairperson of the Academy's Medicare Subcommittee, for an actuarial perspective on the challenges facing Medicare's long-term sustainability. Thompson's comments expand on the Academy's issue brief Medicare's Financial Condition: Beyond Actuarial Balance, which was released after the Medicare Trustees Report was made public.
A columnist for the Rural Health News Service cited the Academy's analysis of 2017 premium drivers in a syndicated story that explores how premium and subsidy fluctuations under the ACA have affected policyholders in the Midwest region. The story was published in the Craig Daily Press (Colo.), Shorewood Sentinel (Ill.), among other media outlets.
Modern Healthcare quoted Kenneth Clark, chairperson of the Medicare Supplement Work Group, in a story that looks at recent and future changes to Medigap plans and their implications for insurers and Medicare-eligible retirees.
A Tulsa Beacon story about proposed premium increases for ACA exchange marketplace plans in Oklahoma and elsewhere also cited the Academy's issue brief on 2017 premium drivers.
A Managed Healthcare Executive story cited the Risk Sharing Subcommittee's April issue paper on the ACA risk adjustment program, examining how insurers should prepare for future risk adjustments.
A position paper by the American College of Physicians that addresses the rising cost of prescription drugs cites data from the Academy webinar, "National Health Spending Projections From CMS."
The Academy's LTCI issue brief was cited in a LifeHealthPro story on properly structuring private LTCI.
Upcoming Events
Lowest Rates Available for LHQ Seminar
Hear the latest on health insurance valuation; premium, loss, expense, and contingency reserves; and risk-based capital at this year's Life and Health Qualifications Seminar. This seminar will be held Nov. 13-17 in Arlington, Va. (Washington, D.C., metro region), and is considered to be the most succinct and effective way to acquire the required basic education and continuing education to sign NAIC life and health annual statement actuarial opinions. It also serves as a basic education refresher or as a source of required continuing education for more experienced actuaries. Register now for the lowest rates.
Annual Meeting and Public Policy Forum
Early registration rates are available through Aug. 1 for the Academy's Annual Meeting and Public Policy Forum, which will provide an in-depth look at top public policy and professionalism issues. Visit the Annual Meeting page to learn more about the Nov. 3-4 event to be held in Washington, D.C., including the latest agenda and how to register.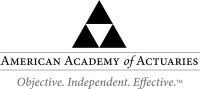 PLEASE DO NOT REPLY TO THIS EMAIL. THIS EMAIL ADDRESS IS NOT MONITORED.
If you would like more information or to contact the Academy, please visit us at www.actuary.org/content/about-us

Follow the Academy on Facebook, LinkedIn, and Twitter.
Rather not receive Academy emails? Unsubscribe by emailing membership@actuary.org.
---
1850 M Street NW • Suite 300 • Washington, DC 20036 • 202.223.8196 • www.actuary.org
Copyright 2016 American Academy of Actuaries. All rights reserved.