HealthCheck, February 2018
Printer-friendly version
Academy activities, legislative/regulatory updates, and more.

Academy Activities
The Individual and Small Group Markets Committee sent comments Feb. 9 to the U.S. Department of Labor (DOL) after members of the committee met with representatives of the DOL's Employee Benefits Security Administration regarding how to model the impact of association health plans.
The Joint P&C/Health Bond Factors Analysis Work Group presented a discussion draft on Feb. 5 on P/C and health bond factors to the NAIC's Joint Health RBC and P/C RBC Drafting Group.
The Individual and Small Group Markets Committee submitted a comment letter on Jan. 25 in response to a request by the U.S. Department of Health and Human Services (HHS) for information on promoting health care choice and competition.
Members of the Retiree Benefits Subcommittee held a teleconference with the U.S. Government Accountability Office on a review of postal retiree health benefits and key issues to consider regarding their financial condition.
Legislative/Judicial/Regulatory Updates

The U.S. Congress on Feb. 9 passed a bill—and the president signed it into law—to, among other things, fund the federal government through March 23. The legislation includes a number of additional provisions affecting health care spending and programs, including the CHRONIC Care Act; an additional four-year extension of the Children's Health Insurance Program (CHIP) on top of the six-year CHIP extension passed in January; a provision to close the Medicare Part D coverage gap; a repeal of the Medicare Independent Payment Advisory Board; and a two-year extension of federal funding for community health centers. Read the Academy alert.

Congress passed a short-term continuing resolution on Jan. 22 that delayed three health care taxes established by the Affordable Care Act (ACA)—the medical device tax, the excise tax on high-cost employer-sponsored health care plans, and the annual fee on health insurance providers. Read the Academy alert.

The Centers for Medicare & Medicaid Services (CMS) on Feb. 1 approved a Section 1115 Medicaid waiver request by Indiana that includes work requirements as a condition of Medicaid eligibility.

New York and Minnesota filed a lawsuit on Jan. 26 challenging a decision by HHS to end federal payments for the basic health programs (BHPs) established by the ACA. Under BHPs, states could use federal funds to contract directly with health insurers in order to establish affordable plans for low-income residents, in lieu of offering qualified health plans.

The Idaho Department of Insurance issued a bulletin on Jan. 24 stating that it would begin allowing insurers in the state to sell "state-based" plans that will not be required to meet the requirements established by the ACA.

Voters in Oregon approved a ballot measure on Jan. 23 that provides funding for the state's Medicaid program through a 0.7 percent tax on large hospitals and a 1.5 percent tax on some health insurance plans.

The U.S. Senate confirmed Alex Azar as secretary of HHS on Jan. 24, and Azar was sworn in on Jan. 29.

CMS sent a letter to state Medicaid directors on Jan. 11 announcing a new policy to allow states to include work requirements in their Medicaid programs for working-age adults who are not eligible on the basis of a disability or pregnancy. The letter follows Section 1115 Medicaid waiver requests recently submitted by 10 states that include provisions for work requirements. CMS approved a waiver request on Jan. 12 from Kentucky that included work requirements. Read the Academy alert.
Life and Health Valuation Law Manual Now Available
Order your copy of the 2018 Life and Health Valuation Law Manual. Available in online and CD-ROM versions, the manual is designed to help appointed actuaries know the requirements of the NAIC model Standard Valuation Law and the Model Actuarial Opinion and Memorandum Regulation.
In the News/Media Activities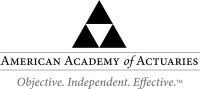 Follow the Academy on Facebook, LinkedIn, and Twitter.
---
1850 M Street NW • Suite 300 • Washington, DC 20036 • 202.223.8196 • www.actuary.org
Copyright 2018 American Academy of Actuaries. All rights reserved.