HealthCheck, February 2017
Printer-friendly version
Academy activities, legislative/regulatory updates, and more.

Academy Activities
On Jan. 18, the Individual and Small Group Markets Committee released an issue paper examining the experience in the Affordable Care Act (ACA) individual market, outlining the conditions necessary for a sustainable market, examining whether these conditions are currently being met, and discussing the implications of potential changes to improve the ACA market rules or replace the ACA with an alternative approach.
The Academy's recent analysis on the individual and small group markets and considerations of possible changes to the ACA have received widespread attention in the national media (see "In the News" below) and in Washington and beyond. Sen. Tim Kaine urged Senate Republicans to discuss "meaningful improvements" to the ACA before repeal, and California Insurance Commissioner Dave Jones sent a letter to House Majority Leader Kevin McCarthy describing Californians' experience under the ACA; both cited the Academy's December 2016 letters to U.S. House and Senate leaders on the consequences of a repeal of the ACA without having a suitable replacement in place.
On Feb. 6, Academy Senior Health Fellow Cori Uccello and Karen Bender, chairperson of the Academy's Individual and Small Group Markets Committee, submitted written testimony for the record to the U.S. House Ways and Means Oversight Subcommittee on the effectiveness of the individual mandate under the ACA.
Legislative/Regulatory Updates

The U.S. House of Representatives passed a budget resolution on Jan. 13, by a margin of 227 to 198, to begin the process of repealing provisions of the ACA through budget reconciliation. This followed a 51-48 vote in the U.S. Senate on Jan. 12 on the same budget resolution.

On Jan. 20, President Trump signed an executive order that grants relevant agencies the exercise of "all authority and discretion available to them to waive, defer, grant exemptions from, or delay the implementation of any provision or requirement of the [ACA] that would impose a fiscal burden on any State or a cost, fee, tax, penalty, or regulatory burden on individuals, families, healthcare providers, health insurers, patients, recipients of healthcare services, purchasers of health insurance, or makers of medical devices, products, or medications."

On Jan. 24, President Trump's chief of staff, Reince Priebus, also issued a memorandum that was published in the Federal Register, placing a "regulatory freeze pending review" on all federal rulemaking. ACA-related regulations affected by this include proposed rules on employer health insurance reporting (REG-103058-16); and the effect of opt-out arrangements (REG-109086-15). However, the administration is expected to release a proposed regulation, the Patient Protection and Affordable Care Act, Market Stabilization (RIN: 0938-AT14), which was received Feb. 1 for review by the White House Office of Management and Budget.

On Jan. 26, Minnesota's governor, Mark Dayton, signed a bill into law that provides premium assistance to 125,000 state residents facing major health insurance premium increases in 2017.

On Feb. 7, the U.S. House Energy and Commerce Subcommittee on Health approved two bills, H.R. 829 and H.R. 181, that tweak Medicaid's budget in anticipation of repealing the ACA. The committee will soon consider other related bills that would anticipate replacing the ACA.
In the News
Senior Health Fellow Cori Uccello was quoted in a Wall Street Journal article discussing the implications of reducing health plan benefits required under the ACA. The article was republished by MSN.
A fact-checking article published by The Hill discussing whether the ACA is in a premium spiral also quoted Uccello on how steady enrollment and age distribution are not indicative of such a spiral.
A subscriber-only Bloomberg Government story discussing proposals to eliminate the ACA's individual mandate quoted Uccello, who stressed that any reforms would need to "encourage enrollment among healthy people" to assure market sustainability.
LifeHealthPro, Fierce Healthcare, and the subscriber-only publication Politico Pro ran stories focused on the Academy's new issue paper evaluating the health insurance individual market and reform options. Uccello discussed the options in a subscriber-only Bloomberg Government article as well.
A column in the Charleston Gazette-Mail (W.Va.) cited the cover story in the November/December 2016 issue of Contingencies, "Generational Shift," in discussing the need to prepare for the retirement and health challenges posed by demographic changes.
Order Your Copy of the Life & Health Valuation Law Manual
The 2017 Life & Health Valuation Law Manual—designed to help appointed life and health actuaries comply with the requirements of the NAIC model Standard Valuation Law and the Model Actuarial Opinion and Memorandum Regulation—is now available. The manual includes a current-topics section outlining key valuation developments and state guidance, NAIC model laws and regulations that have an effect on reserve calculations, a discussion of generally distributed interpretations, and copies of the current actuarial guidelines from the NAIC Examiners Handbook. Order your copy today.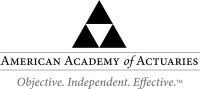 PLEASE DO NOT REPLY TO THIS EMAIL. THIS EMAIL ADDRESS IS NOT MONITORED.
If you would like more information or to contact the Academy, please visit us at www.actuary.org/content/about-us

Follow the Academy on Facebook, LinkedIn, and Twitter.
Rather not receive Academy emails? Unsubscribe by emailing membership@actuary.org.
---
1850 M Street NW • Suite 300 • Washington, DC 20036 • 202.223.8196 • www.actuary.org
Copyright 2016 American Academy of Actuaries. All rights reserved.