HealthCheck, February 2016
Printer-friendly version

Volunteer for the HPC Communications Committee
The Academy's Health Practice Council (HPC) is looking for a few good volunteers for the HPC Communications Committee. The committee is charged with various tasks—primarily taking existing material and working with staff to craft it to appeal to different audiences (policy, media/reporters, consumers, etc.).
Particularly with the 2016 elections just around the corner, we are looking for volunteers who:
Enjoy and have a facility with written communications;

Have an interest in and can bring a fresh perspective to a variety of health care policy issues;

Understand and embrace the Academy's objective approach to policy and public interest issues; and

Have time over the next few months for regular conference calls and document development.
If you are interested or know someone who would be a good addition to the committee, please contact Heather Jerbi (jerbi@actuary.org) or David Linn (linn@actuary.org) by Wednesday, Feb. 17.
Academy Activities
The Individual Disability Tables Work Group sent its final report and documentation on a recommended new statutory valuation standard basis for morbidity to the NAIC's Health Actuarial Task Force.
The LTC Principle-Based Reserves Work Group sent a final report on a principle-based approach model to the NAIC's Long-Term Care Actuarial Working Group.
The Academy's Financial Reporting and Solvency Committee hosted a Jan. 25 webinar on Own Risk and Solvency Assessment (ORSA) from a short-duration health perspective. Slides and audio are available to members on the webinar page.
The Academy's Medicare Subcommittee sent a letter Jan. 26 to the U.S. Senate Finance Committee with comments on the Bipartisan Chronic Care Working Group's Policy Options Document.
On Jan. 27, the Academy's Health Practice International Committee and the International Actuarial Association Health Section jointly hosted a webinar on risk adjustment from an international perspective. Slides are available to members on the webinar page.
Academy Senior Health Fellow Cori Uccello moderated a webinar titled "CMS Discussion of National Health Spending in 2014," which highlighted the Centers for Medicare and Medicaid Services' (CMS) Office of the Actuary's findings on national health spending. Slides and audio are available to members on the webinar page.
Legislative/Regulatory Updates

On Feb. 9, the Obama administration released its fiscal year 2017 budget, which includes provisions that would encourage states to expand Medicaid by covering the full cost of expansion for three years, extend Children's Health Insurance Program (CHIP) funding through 2019, increase the threshold for the excise tax on high-cost employer plans, establish an 85 percent medical loss ratio for Medicaid and CHIP, reform payments for Medicare Advantage plans, and support a number of initiatives to address health care cost growth and quality improvements in Medicare and Medicaid. Many other health-related provisions can be found in a "Budget in Brief" paper by the Department of Health and Human Services. Look for an upcoming Academy alert with more information.

On Jan. 28, the GAO published a call for nominations for MedPAC (Medicare Payment Advisory Commission) that will be effective May 1, 2016. The comptroller general is responsible for appointing its members. Letters of nomination and resumes for actuary candidates will be accepted through March 9, 2016.

Also on Jan. 28, CMS proposed several changes to Accountable Care Organization (ACO) rules that would be phased in over time. One such rule would update how the agency calculates financial targets for participating members, while another would adjust targets based on the organization's patient mix. CMS also proposed a renewal option that would allow ACOs to extend their agreements for a year.

The Centers for Consumer Information and Insurance Oversight released the final 2017 Actuarial Value calculator and methodology on Jan. 21.
In the News/Media Activities
Several media outlets noted that President Obama called on Congress to strengthen Social Security and Medicare in his final State of the Union address in January, as the Academy had urged policymakers to address retirement and health security issues. BenefitsPro cited the Academy in its coverage, and BenefitsLink.com republished the Academy's press release.
Bankrate Retirement Blog quoted Senior Health Fellow Cori Uccello, who provided context on the importance and the difficulty of policymakers' challenges with Medicare. "We must make sure that [Medicare] continues to pay providers and keeps costs low, giving beneficiaries access to affordable care," Uccello said.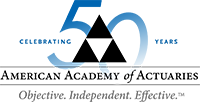 PLEASE DO NOT REPLY TO THIS EMAIL. THIS EMAIL ADDRESS IS NOT MONITORED.
If you would like more information or to contact the Academy, please visit us at www.actuary.org/content/about-us
Sign up to follow the Academy on Twitter.
Rather not receive Academy emails? Unsubscribe by emailing membership@actuary.org.
---
1850 M Street NW • Suite 300 • Washington, DC 20036 • 202.223.8196 • www.actuary.org
Copyright 2016 American Academy of Actuaries. All rights reserved.