HealthCheck, February 2013
Printer-friendly version
Having trouble viewing this email? View it in your browser.

Academy Activities
The Academy's Health Solvency Work Group submitted a letter to the National Association of Insurance Commissioners' Health Risk-Based Capital Working Group on Feb. 7 that discussed how provisions of the Affordable Care Act (ACA) could affect the health risk-based capital (RBC) formula. The work group came to the conclusion that a change to the health RBC formula was not necessary at this time.
Legislative and Regulatory Updates

Rep. Phil Gingrey (R-Ga.) introduced legislation (H.R. 544) on Feb. 6 that is intended to help prevent an increase in young people's health care premiums as a result of the ACA. The bill would allow states to determine how to regulate the age-rating within their insurance markets and establishes a 5-to-1 rating band if a state does nothing.

On Feb. 6, the Internal Revenue Service, the Employee Benefits Security Administration, and the Centers for Medicare & Medicaid Services (CMS) proposed rules to amend coverage for preventive services, specifically coverage of contraceptives. Comments on the proposed rules must be received by April 8.

The CMS proposed rules on Feb. 1 that would govern exemptions from the shared responsibility payment for not maintaining minimum essential coverage under the ACA. Comments are due to the CMS by March 18.

In Jan. 25 guidance, the CMS discussed how the requirements of the Public Health Service Act apply when an employer group waiver plan supplements standard Medicare Part D prescription drug coverage. The CMS bulletin looks at federal health coverage requirements, specifically how they apply to retiree-only plans, insured coverage plans that cover two or more employees, and self-insured coverage plans that cover two or more employees.
In The News/Media Activities
The Academy's Medicaid decision brief was cited on Feb. 7 in the Nashville Post's, "Medicaid expansion leads chamber's list of legislative priorities," and in a Feb. 7 Op-Ed by James Wall, President of AARP North Carolina, in fayobserver.com's "Expanding Medicaid–Insuring jobless is right, costs less than their ER care."
Politico Pro's article, "States face challenges in moving high-risk, high-cost people into exchanges," cited the Academy's comments on the proposed HHS rule on reinsurance. This subscription-only article discusses the effect on premiums of moving individuals in state high-risk pools into the exchanges and how the front-loaded nature of the reinsurance mechanism may factor into states' strategies.

Upcoming Health Care Reform Events
The Uninsured are Coming: Are you Ready?
Webinar: Feb. 27 (fee charged)
Sponsor: America's Health Insurance Plans (AHIP)
Dual Elegibles Summit: Improving Care, Coverage, & Cost
Summit: March 12 (fee charged)
Sponsor: America's Health Insurance Plans (AHIP)
2013 National Policy Forum
Conference: March 13–14, Washington, DC (fee charged)
Sponsor: America's Health Insurance Plans (AHIP)
For a complete listing of upcoming and recent health care reform events click here.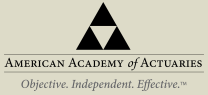 PLEASE DO NOT REPLY TO THIS EMAIL. THIS EMAIL ADDRESS IS NOT MONITORED.
If you would like more information or to contact the Academy, please visit us at www.actuary.org/content/about-us
Sign up to follow the Academy on Twitter.
Rather not receive Academy emails? Unsubscribe by emailing membership@actuary.org.
---
1850 M Street NW • Suite 300 • Washington, DC 20036 • 202.223.8196 • www.actuary.org
Copyright 2013 American Academy of Actuaries. All rights reserved.