HealthCheck August 29, 2012
Printer-friendly version
Having trouble viewing this email? View it in your browser.

Academy Activities
Sept. 4 is the deadline for submitting comments on an exposure draft of a practice note on the preparation and review of rate filings under the Affordable Care Act (ACA) that was released by the Rate Review Practice Note Work Group on July 23.
Legislative and Regulatory Updates

Health care cost-control legislation signed into law by Massachusetts Gov. Deval Patrick on Aug. 6 is expected to save up to $200 billion over the next 15 years by limiting the increase in health care spending to the rate of growth of the state's economy. The legislation also encourages a move to alternative payments, increases transparency, seeks to promote wellness, enacts malpractice reform, and continues support for health information technology.

Rep. Michael Burgess (R-Texas) introduced a bill on Aug. 2 that repeals the ACA and promotes the establishment of reinsurance programs and high risk pools to give high risk individuals access to health insurance. H.R. 6283 directs the Department of Health and Human Services to give grants to states that provide reinsurance for health insurance coverage or create a high risk pool to mitigate the health care costs of high risk individuals in those states.

An Aug. 1 report released by the Government Accountability Office (GAO) looks at how states are meeting expanded Medicaid eligibility goals outlined in the Affordable Care Act (ACA). The report examines the changes that six states are making to eligibility requirements, determinations, and IT infrastructure. The report also explores the states' views on the fiscal implications of the Medicaid expansion on state budget planning.

A second report released by the GAO on Aug.13 addresses the impact the ACA will have on employer-sponsored health insurance. According to the report, a microsimulation model provided estimates ranging from a net increase of 2.7 percent to a net decrease of 2.5 percent in group health plan enrollment during the first two years.
In The News/Media Activities
Senior Health Fellow Cori Uccello is quoted by The Medicare News Group in its Aug. 24 blog "Raising the Medicare Eligibility Age Harms Minorities; Is a Benefits Reduction, Experts Say." Uccello explains why estimating the effect of an increase in Medicare's eligibility age is more complex than estimating the same adjustment in Social Security eligibility.
News links are to external websites. The Academy is not responsible for the content of these websites.

Upcoming Health Care Reform Events

Payment Reform to Achieve Better Health Care
Briefing: Sept. 7, 8 a.m. to 2 p.m., Washington (no fee charged)
Sponsor: Health Affairs
For a complete listing of upcoming and recent health care reform events click here.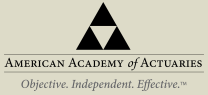 PLEASE DO NOT REPLY TO THIS EMAIL. THIS EMAIL ADDRESS IS NOT MONITORED.
If you would like more information or to contact the Academy, please visit us at www.actuary.org/content/about-us
Sign up to follow the Academy on Twitter.
Rather not receive Academy emails? Unsubscribe by emailing membership@actuary.org.
---
1850 M Street NW • Suite 300 • Washington, DC 20036 • 202.223.8196 • www.actuary.org
Copyright 2012 American Academy of Actuaries. All rights reserved.