HealthCheck, August 2016
Printer-friendly version
Academy submits testimony to Congress; new election guides released.

Academy Activities
Academy Representatives Speak at Health Briefing, Submit Testimony to Congress
Senior Health Fellow Cori Uccello spoke at the Alliance for Health Reform's July 15 panel discussion, "Trends in Coverage and Affordability on the Affordable Care Act (ACA) Marketplaces," giving an overview of factors driving 2017 health premiums based on the Individual and Small Group Markets Committee's May issue brief.
Uccello and Karen Bender, chairperson of the Individual and Small Group Markets Committee, submitted testimony to a U.S. House Ways and Means Committee for a hearing on factors underlying premium rate setting and the major components driving premium changes for 2017 under the ACA.
New Election Guides Released
As the nation looks ahead to the November presidential and congressional elections, the Academy continues to update its offering of election guides in order to help voters become better informed about major public policy issues. These guides, collected on the "2016: Making Issues Count" page, offer information on select campaign topics on which actuaries have expertise. Last month, the Academy released three new health policy election guides:
Legislative/Regulatory Updates

The Department of Labor, Department of the Treasury, and the Pension Benefit Guaranty Corp. issued a notice of proposed revisions regarding Form 5500. The proposed changes affect employee pension and health plans, and are designed to modernize and improve employee benefit plan reporting for filers and the public and harmonize annual reporting requirements.

The Centers for Medicare and Medicaid Services (CMS) issued a proposed rule related to information collected on minimum essential coverage as defined by the ACA from health insurance issuers, employers, and government programs. Comments are due by Oct. 3.
Annual Meeting and Public Policy Forum
Mark your calendars for the Academy's Annual Meeting and Public Policy Forum, to be held Nov. 3-4 in Washington, D.C. Attendees will get an in-depth look at health and other top public policy and professionalism issues facing the actuarial profession, and the opportunity to earn valuable continuing education credit. Register today.
In the News/Media Activities
Uccello and Bender's testimony for the July 12 House Ways and Means Committee hearing on rising health insurance premiums was reported in BenefitsLink.com.
The Daily Jeffersonian (Cambridge, Ohio), the Greeley Tribune (Colo.) and the Clermont Sun (Batavia, Ohio) published a Rural Health News Service column that cited the issue brief on 2017 health premium drivers.
Managed Healthcare Executive, Capital Public Radio, California Broker, KQED Public Media, the Sierra Sun Times, and Sacramento ABC affiliate KXTV each cited statistics from the health cost-driver issue brief in coverage of 2017 rates announced by Covered California, the state's official ACA marketplace.
A subscriber-only Bloomberg BNA story features Uccello's comments on factors driving 2017 health premiums based on the Academy's issue brief on 2017 health care cost drivers. The remarks are from the Alliance for Health Reform's July 15 panel discussion, "Trends in Coverage and Affordability on the ACA Marketplaces."
A Bloomberg BNA story cites Risk Sharing Subcommittee Chairperson Barb Klever discussing the subcommittee's analysis of the ACA's permanent risk-adjustment program.
A Commonwealth Fund article examining how the ACA has affected competition in health insurance markets cited data published in the Academy's issue brief on 2016 cost drivers and the effect of the ACA reinsurance program in reducing premiums.
HealthPayerIntelligence quoted Michael Thompson, chairperson of the Academy's Medicare Subcommittee, in a story examining CMS's Office of the Actuary report on projected health care spending rates from 2015 to 2025.
Early Rates Still Available for LHQ Seminar
Early registration rates for the 2016 Life and Health Qualifications Seminar will end in just over a month, on Sept. 12. The seminar, to be held Nov. 13-17 in Arlington, Va. (outside of Washington, D.C.), will include seminars on health insurance valuation; premium, loss, expense, and contingency reserves; risk-based capital; and professionalism. Space is limited; register today.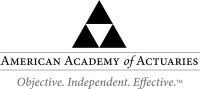 PLEASE DO NOT REPLY TO THIS EMAIL. THIS EMAIL ADDRESS IS NOT MONITORED.
If you would like more information or to contact the Academy, please visit us at www.actuary.org/content/about-us


Follow the Academy on Facebook, LinkedIn, and Twitter.
Rather not receive Academy emails? Unsubscribe by emailing membership@actuary.org.
---
1850 M Street NW • Suite 300 • Washington, DC 20036 • 202.223.8196 • www.actuary.org
Copyright 2016 American Academy of Actuaries. All rights reserved.