HealthCheck, April 2016
Printer-friendly version
In this issue: Recap of Academy activities, new regulatory updates, and LHQ Seminar

Academy Activities
The Health Solvency Subcommittee sent a letter March 28 to the NAIC's Health Risk-Based Capital (E) Working Group with comments on Proposal 2016-01-H's individual premiums and claims footnote.
The Academy held a March 30 webinar, "A Conversation with CCIIO on 2017 Rate Filings," at which attendees from about 570 registered sites had the opportunity to engage with representatives of the Center for Consumer Information and Insurance Oversight (CCIIO) as they provided a live demonstration of the unified rate review template (URRT) in light of the new 2017 rate filing instructions and changes. Members may log in to hear an audio recording of the webinar.
Also on March 30, the Premium Review Work Group sent a letter to CCIIO with comments on the 2017 URRT and instructions.
Several groups under the Academy's Health Practice Council made presentations at the NAIC Spring 2016 National Meeting in New Orleans earlier this month:
Legislative/Regulatory Updates

CMS released a white paper on March 24 that summarizes the risk adjustment program under the Affordable Care Act (ACA) and outlines potential modifications to the methodology for 2018 and beyond. The white paper cites analysis from the Academy issue brief Risk Assessment and Risk Adjustment regarding the relationship between medical diagnosis and treatment costs. Comments are due by April 22.

On April 5, the Centers for Medicare and Medicaid Services (CMS) announced 2017 calendar year capitation rates for Medicare Advantage plans.

CMS issued a final rule March 30 addressing the application of mental health parity requirements to Medicaid managed care organizations.

On March 11, CMS published a proposed rule regarding the implementation of a new Medicare Part B Drug Payment model to test whether alternatives drug payment designs would reduce Medicare spending while preserving quality care. Comments are due by May 9.
In the News/Media Activities
The Academy's analysis of options for implementing the ACA's reinsurance program was mentioned in a story in The Hill. During the public comment period on the proposed rules for the program in 2014, the Academy's Risk-Sharing Work Group submitted its analysis to CMS, stating that "the proposed rule would provide more certainty that the reinsurance payments will be fully funded and may result in insurers more fully offsetting premiums by anticipated reinsurance payments." A Daily Kos column also referenced the Academy's analysis on the ACA's reinsurance program.
The Academy Risk Sharing Subcommittee's presentation on risk adjustment at the NAIC Spring 2016 National Meeting was posted on Benefitslink.com.
Register Today for the Life and Health Qualifications Seminar
The 2016 Life and Health Qualifications Seminar will be held Nov. 13-17 in Arlington, Va., outside of Washington, D.C. See why so many of your peers find this seminar the most succinct and effective way to acquire the required basic education and continuing education to assist in being qualified to sign statements of actuarial opinion for NAIC life and health annual statements for those who may not have met the basic education requirements set forth in Section 3.1.1 of the U.S. Qualification Standards. Register now for the lowest rates; click here for program and additional information.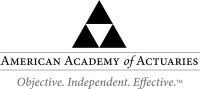 PLEASE DO NOT REPLY TO THIS EMAIL. THIS EMAIL ADDRESS IS NOT MONITORED.
If you would like more information or to contact the Academy, please visit us at www.actuary.org/content/about-us
Sign up to follow the Academy on Twitter.
Rather not receive Academy emails? Unsubscribe by emailing membership@actuary.org.
---
1850 M Street NW • Suite 300 • Washington, DC 20036 • 202.223.8196 • www.actuary.org
Copyright 2016 American Academy of Actuaries. All rights reserved.