Health Check, May 2016
Printer-friendly version
Issue Brief Highlights 2017 Premium Drivers; Legislative/Regulatory Updates; LHQ Seminar

Academy Activities
The Individual and Small Group Markets Committee published a new issue brief this week—Drivers of 2017 Health Insurance Premium Changes—that provides an overview of the general factors underlying premium rate setting and highlights the major components driving premium changes for 2017 under the Affordable Care Act (ACA). The issue brief drew extensive news coverage; see "In the News," below.
The LTC Reform Subcommittee submitted a comment letter in late April to a Maryland Insurance Administration public hearing on long-term care insurance. The letter addresses the state of long-term care insurance in Maryland and emphasizes the importance of actuarial input toward improving the system.
The Health Care Receivables Factors Work Group sent its recommendation April 15 on credit risk factors for health care receivables to the NAIC's Health Risk Based Capital (E) Work Group.
On April 12, the Risk Sharing Subcommittee published an issue paper that reviews the first year of experience under the ACA risk adjustment program with a focus on experience in the individual market. The subcommittee also sent a letter, on April 22, to the Centers for Medicare & Medicaid Services (CMS) with comments on its discussion paper, HHS-Operated Risk Adjustment Methodology, that addresses partial year enrollment, use of pharmacy data, use of a concurrent versus prospective model, high-risk enrollee pooling, recalibration of the model, and the transfer formula.
Legislative/Regulatory Updates
CMS released various regulations and guidance in the past month:

On May 6, an interim final rule on special enrollment periods (SEPs) and consumer operated and oriented plans (CO-OPs). The rule changes SEP requirements and allows more flexibility to CO-OPs to obtain access to private capital to stabilize these plans. This rule is effective on May 11, with the exception of amendments to the SEPs, which are effective on July 11. Comments on the interim final rule must be received by July 5.

On April 27, a proposed rule implementing the Medicare Access and CHIP [Children's Health Insurance Program] Reauthorization Act of 2015 (MACRA). The proposed rule establishes two potential paths for physician payments under this new framework—the Merit-based Incentive Payment System or Advanced Alternative Payment Model. Comments are due by June 27.

On April 25, a final rule to revamp managed care requirements, affecting both Medicaid and CHIP.

On April 18, guidance on allowing states to do "direct enrollment" for their Small Business Health Options Program (SHOP) exchanges for another two years—2017 and 2018. The guidance provides more information on ACA 1332 state innovation waiver applications specifically for states that are requesting to discontinue a SHOP exchange.
On April 29, the IRS released information on 2017 health savings account (HSA) cap limits—for individual coverage under a high-deductible health plan, the HSA limit is $3,400, and for family coverage it is $6,750.
Sen. Ron Wyden (D-Ore.) introduced S. 2864, the Reducing Existing Costs Associated with Pharmaceuticals for Seniors Act of 2016 (RxCAP) on April 27, a bill that proposes a $7,500 cap on drug costs for seniors in Medicare.
In the News/Media Activities
Immediately following its release this week, the Academy's issue brief Drivers of 2017 Health Insurance Premium Changes became a major topic of discussion in health and financial news stories nationwide. Initial reports and analysis can be read in The Fiscal Times, Morning Consult, MSN Money, Yahoo Finance, Becker's Hospital Review, Fierce Health Payer, and subscriber-only stories in Bloomberg BNA and Politico Pro Healthcare.
The Health Practice Council's analysis of the ACA risk adjustment program received coverage in numerous media outlets, including Politico Pro (subscriber only), Becker's Hospital Review, Morning Consult, and Fierce Health Payer. The issue paper reviews the first year of experience under the ACA risk adjustment program with a focus on experience in the individual market. Implications are also highlighted in the Mayo Clinic blog; the Talix blog; the law blog Daily Reporting Suite; and Health Care Current.
The Academy Risk Sharing Subcommittee's presentation on risk adjustment at the NAIC Spring 2016 National Meeting is discussed in a CHIRblog post of the Georgetown University Health Policy Institute's Center on Health Insurance Reforms.
The Risk Sharing Subcommittee's letter to CMS with comments on its recent discussion paper, HHS-Operated Risk Adjustment Methodology, was posted on Benefitslink.com.
A subscriber-only piece in A.M. Best analyzing Affordable Care Act (ACA) marketplace drivers of 2017 premiums quotes Senior Health Fellow Cori Uccello, who explained how insurers adjust their premiums relative to their risk profile. The story is also available via ProgramBusiness.
A Kaiser Family Foundation article that looks at 2017 premiums drivers cites the Academy issue brief, Drivers of 2016 Health Insurance Premium Changes.
An Inside Health Insurance Exchanges story, "Risk-Adjustment Payouts May Level Plans Before Tweaks Can Level the Playing Field," cited analysis from the Academy's issue paper on the ACA risk adjustment program.
Lowest Rates Available Now for Life and Health Qualifications Seminar
Register today for the lowest rates to attend this year's Life and Health Qualifications Seminar, to be held Nov. 13-17 in Arlington, Va., near Washington, D.C. Seminar topics will include health insurance valuation; premium, loss, expense, and contingency reserves; and risk-based capital. See why so many of your peers find this seminar the most succinct and effective way to acquire the required basic education and continuing education to sign the NAIC life and health annual statement actuarial opinions. It also serves as a basic education refresher or as a source of required continuing education for more experienced actuaries. Seating is limited to the first 100 registrants; click here to register.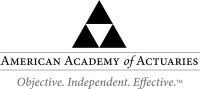 PLEASE DO NOT REPLY TO THIS EMAIL. THIS EMAIL ADDRESS IS NOT MONITORED.
If you would like more information or to contact the Academy, please visit us at www.actuary.org/content/about-us


Sign up to follow the Academy on Twitter.
Rather not receive Academy emails? Unsubscribe by emailing membership@actuary.org.
---
1850 M Street NW • Suite 300 • Washington, DC 20036 • 202.223.8196 • www.actuary.org
Copyright 2016 American Academy of Actuaries. All rights reserved.