HealthCheck April 25, 2012
Printer-friendly version

April 25, 2012
Academy Activities
In an April 2 letter to the Center for Consumer Information and Insurance Oversight (CCIIO), the Health Practice Council responded to questions about the structure of the proposed actuarial value calculator that were raised during a March meeting with representatives of the CCIIO. The council's letter addressed cost-sharing inputs for the calculator, incorporation of induced demand, number of geographic pricing tiers, and incorporation of multiple network tiers.
A new campaign 2012 voters' guide—What Voters Should Know About Medicare—was released on April 23. The Health Practice Council's Communications Task Force developed the guide, which is part of the Campaign 2012 Toolkit on Medicare, to help voters understand how Medicare is financed, the financial challenges facing the program, and some of the options available to improve Medicare's financial condition.
Some states may be failing to correctly define the term "qualified actuary" under the Affordable Care Act's (ACA) rate review provision, the Academy's Health Practice Council and Committee on Qualifications wrote in an April 20 letter that was sent to all state insurance commissioners and the chairs of each state house and senate insurance committee. The letter provided a definition of "qualified actuary" that the Academy believes is appropriate with regard to the Affordable Care Act's (ACA) rate review provision. The Academy decided the letter was necessary after seeing a number of instances in recent months in which states are not defining qualified actuary correctly in the context of ACA's rate review provision.
Legislative and Regulatory Updates

The 2012 Medicare Trustees Report was released on April 23. Key findings in this year's report, based on current-law projections, include:
The Federal Hospital Insurance (HI) trust fund is projected to run out of assets in 2024 (the same as projected last year), at which point tax revenues would cover only 87 percent of program costs.
The projected HI deficit over the next 75 years is 1.35 percent of taxable payroll. Eliminating that deficit would require an immediate 47 percent increase in payroll taxes, an immediate 26 percent decrease in benefits, or some combination of the two.
Supplementary Medical Insurance Trust Fund costs are projected to grow from 2.0 percent of the gross domestic product (GDP) in 2011 to 4.0 percent of GDP by 2085.
Total Medicare spending as a share of GDP is expected to grow from 3.7 percent in 2011 to 6.7 percent in 2085.

An April 20 bulletin issued by the Centers for Medicare & Medicaid Services (CMS) provided technical guidance on the final medical loss ratio (MLR) regulation. The bulletin responded to questions that the CMS had received about the regulation, including the applicability of the MLR to certain types of plans, counting employees for determining market size, reinsurance and reporting, states with a higher MLR standard, and application of the adjustment for "mini-med" plans.

The CMS published guidance on March 30 for states that plan to submit proposals related to the rate review provision in the ACA for state-specific thresholds that would be effective from Sept. 1, 2012, through Aug. 31, 2013. The final rate review regulations established a transitional 10 percent threshold for the review of "unreasonable" rate increases but also allowed for the determination of thresholds that would account for state-specific variations in rate increases. The guidance outlines policy and analytically oriented factors that might support a state-specific threshold proposal.
In The News/Media Activities
As the U.S. Supreme Court wrapped up its oral arguments on the severability issue in the challenge to the ACA, the Academy appeared in several major stories focused on "what now" and "what if." The Academy's amicus brief was cited in Bloomberg's SCOTUS Blog. Asked how actuaries and insurance companies are preparing for the court's decision, Academy Vice President Tom Wildsmith in an interview with NPR's All Things Considered cited the uncertainty for insurers in not knowing who they'll be covering next year. "What if the mandate fails" was a favorite point of speculation in the Washington Post's Wonkblog and Senior Health Fellow Cori Uccello delivered a straightforward answer: in order for ACA to be viable, the system will still need carrots and sticks to compel full participation.
In anticipation of the April 23 release of the Social Security and Medicare trustees' reports, Academy Senior Fellows Uccello and Don Fuerst were called on by CNN to comment, and their quotes appeared in an online story that was picked up by several dozen print and broadcast outlets over the weekend preceding the reports' release.
Upcoming Health Care Reform Events
Accountable Care Organization: The Time is Now, But Do You Have the Right Plan?
Webinar: May 8, 1–2 p.m. EDT (free)
Sponsor: America's Health Insurance Plans (AHIP)
For a complete listing of upcoming and recent health care reform events click here.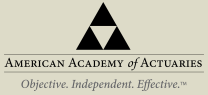 PLEASE DO NOT REPLY TO THIS EMAIL. THIS EMAIL ADDRESS IS NOT MONITORED.
If you would like more information or to contact the Academy, please visit us at www.actuary.org/aboutus.asp

Sign up to follow the Academy on Twitter.
Rather not receive Academy emails? Unsubscribe by emailing membership@actuary.org.
---
1850 M Street NW • Suite 300 • Washington, DC 20036 • 202.223.8196 • www.actuary.org
Copyright 2012 American Academy of Actuaries. All rights reserved.