Email Message to Academy Members
Printer-friendly version

Dear Academy member,
On September 30, 2009, the Academy issued a statement announcing that it had settled pending litigation with its former president-elect. The Academy believes that the expeditious settlement serves the best interests of the Academy, the actuarial profession, and the public by avoiding the continuing expense and disruption of litigation.
We are pleased to have now put that litigation behind us and look forward to working with you as we move ahead together to promote the important public policy and professionalism interests that are vital to the Academy's mission. Members and others who want more information about the litigation and settlement or to review a copy of the Settlement Agreement may find them here.
Rather not receive Academy emails? Unsubscribe by emailing membership@actuary.org.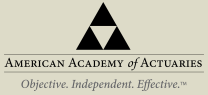 1850 M Street NW Suite 300 Washington, DC 20036 202.223.8196 www.actuary.org
Copyright 2009 American Academy of Actuaries. All rights reserved.